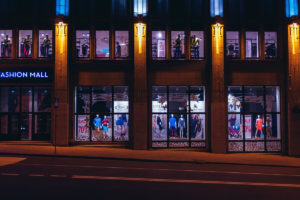 Daylight savings time is over and for most of us in the U.S. (yes, there are a few exceptions) we have moved our clocks and groaned at the loss of a precious hour of sleep. We have to adjust and get used to the change and eventually we do. For our personal lives there isn't a lot of impact, once we are used to it we do benefit from the additional daylight and get to enjoy more outdoor activity. The time change is useful as a reminder for changing batteries in smoke detectors. You may even use it as a point when you will start planning your summer vacations. For business owners daylight savings time can be a reminder that it is time to conduct a store physical security review. Time changes may not impact us much individually but for retailers there is an impact for the building, employees and your customers.
     How does daylight impact your business? With more daylight you may want to take a look at your parking lot lighting. Are the lights on the exterior of the building set to timers? If they are it would be appropriate to set them to the new hours of dusk. Lights turning on too early wastes energy and drives up electric expenses. Having lights come on when it is already dark makes a parking lot feel unsafe and will keep shoppers away from your store. In an article from Buildings.com titled "4 Parking Security Essentials" by Jennie Morton, 11/30/2012, the author states, "Give your lighting a hard look stresses Geary Robinson, parking and transportation services director for Indiana University – Purdue University Indianapolis (IUPUI) and a member of IPI. Dark shadows that can conceal aggressors, reduced visibility for pedestrians and vehicles, and inadequate color rendering all chip away at safety." The article continues, "Not sure if your parking area has a lighting problem? Look at the behavior of visitors. If people feel compelled to use their headlights in your garage or cars are grouped in your lot closest to light poles, these activities indicate that users may be uncomfortable with the level of darkness." (Emphasis mine). If lighting is not adequate or if lamps are out, this is the perfect time to get them replaced. If you lease your property a call to your property management company is in order to get lights repaired or replaced.
     Since we are talking about a thorough physical security review of the building I would recommend testing fire exit push bars. Are they alarming properly? Do the doors open easily? I once had a set of fire doors that would not close properly after testing the push bar and we could not reset the alarm. What if the opposite had been the problem? What would have happened had the doors not opened properly in an emergency situation? You cannot assume that systems will work simply because you want it to be so. While you are at the fire doors, check the fire exit lights, make sure they are lit. This can be difficult with some lights. While they may seem dim to you, some are designed this way. Ask the fire department to come to the store and test the lights to ensure they meet code requirements. By auditing and testing you identify potential issues and get them repaired so you can depend on them in the event you need them. You could also avoid hefty fines for safety violations in case of an inspection by the Fire Marshall.
      Include testing of your burglary and fire alarm systems at this time. Your alarm system company should be able to walk you through a test of the burglary alarm system. Testing door alarm points and any motion sensors your store may have. You may also need to do a break glass test to be sure your system will pick up front door and window glass breaks. Fire alarm tests and sprinkler riser tests can be conducted through a third party vendor. You don't need to be the expert in how to conduct the tests, just be sure to get them done.
     Many people associate spring with a fresh start. Give your business a fresh start annually, use this time of the year as a reminder to check your safety measures. Keep your customers and employees safe while protecting your business from unnecessary fines or lawsuits.
---