A study done by the University of California at Berkley found that hiring a new employee costs an approximate $4,000 dollars per employee and in hiring for higher positions-professionals and management level employees-the figure increases to $7,000. If you are a small business, then the figure increases per every new employee you are trying to hire.  If you are a small business that offers other benefits to their employees, the cost increases considerably.  The importance of hiring quality employees, or training the employees you already have, are an economic advantage many businesses cannot pass.  Hiring and training new employees is expensive, why not do it right the first time? Background checks, and recommendations from other employers are not something you can take lightly.  Checked them before you hire, and it would likely paid dividends.
For more about this and other stories, follow the links below.
---
Loss Prevention Management Must Focus on Quality Recruitment and Retention
Loss prevention management has the power to improve understanding, morale, and workplace inclusion.
Let's face it—the bottom line to any corporate organization is the profit margin. However, those in executive loss prevention management should always be mindful that quality of service drives the margin. Factors that lead to high-quality service are often the result of well-retained employees. Specifically, all management levels need to be mindful of what policies work, what don't work, and what looks promising.
Recruitment and Training
Think back to when you first joined your company. What was your initial impression of the first few people you met when you went in for the initial interview? Do you remember their general attitude about the company?
Chances are that your initial impression was positive. Perhaps this is why you stayed. Do you think the same attitudes are being conveyed to new recruits today? If not, you might consider those colleagues who left the company. What was it about their experiences that differed from yours, that made them leave?
---
The Square Alliance met this morning to discuss ways to combat the increase in shoplifting in the hub of Oxford's shopping. Business owners had a Q&A with OPD investigator Chris Case about how to prevent shoplifting and deal with those who are caught in the act.
Case provided tips in shoplifting prevention such as a more visible security system, keeping an eye out for suspicious activity and more. Business owners voiced their opinions and discussed certain tricks and trends that they've noticed shoplifters using to attempt to steal merchandise. Case mentioned that shoplifters will usually work in pairs rather than alone to attempt to distract workers while they commit the crime.
A heavy importance was placed on figuring out how to deal with shoplifters when they are caught in the act to find the balance of ensuring security but not overstepping the boundaries. Businesses and workers have the ability to recover stolen merchandise and keep the violator in the store until the authorities arrive, as long as they have probable cause. It is also unlawful to lock them in a small space such as a closet or use force.
---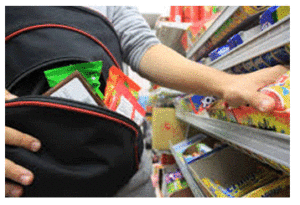 Wal-Mart has a unique way to cut down on shoplifting
Wal-Mart has taken the law into its own hands. 
No, the company has not started its own jail, and any employee who wears a cape and fights crime must still do so on his own time. Instead, the retail chain has taken a new approach to fighting shoplifting that requires less involvement from the police. The retailer has been using a "restorative justice" program in 1,500 of its stores, according to The Gainesville Sun. That's a program in which people deemed low-risk, first-time offenders are given the choice of paying to take an anti-shoplifting course rather than facing arrest and prosecution.
The effort is in its early days, but the results have been good so far. The company has seen a 35% reduction in calls to law enforcement nationwide since restorative justice programs were first implemented, Wal-Mart spokesman Ragan Dickens told The Sun in an email.
"No retailer is immune to the challenge of crime. We recognize the importance of this issue at the highest levels of the company, and we are investing in people and technology to support our stores," he wrote, noting that police are not being cut out of the loop.
---