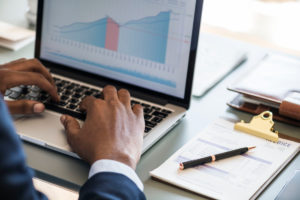 National retail chain stores often rely on a management team to handle all of the daily operations of a business. These positions vary from company to company but depending on the size and sales volume of that retailer there are different managers to oversee diverse functions. There may be soft lines and hardlines department managers, a freight manager, Human Resource Manager and a store manager. Some stores might only have a sales floor manager, freight manager, and a store manager who also functions as the human resources manager. For an independent business owner, these sub-managers might be a luxury that is not affordable to them. That means it is up to the store manager to oversee all store functions and if an employee calls out that may be one more job the manager fills for a day. This takes me back to an old saying I have heard, "Work smarter, not harder". It is not possible for a store owner or a single manager to effectively perform all of the tasks associated with running a store every single day. Finding ways to lighten the load and improve efficiency can make life much better for a retail owner.
     One of the areas of business that can take up a significant portion of time is the hiring process and tracking all the paperwork that goes with it. From the Society for Human Resource Management (shrm.org) 2017 Talent Acquisition Benchmarking some statistics related to hiring and recruiting that are pertinent to this topic:
22% of organizations used automated prescreening to review job applicants' resumes in 2016

The average time to fill a position was 36 days in 2016

The average cost- per- hire was $4,425 in 2016

Employees within their first year of employment accounted for 26% of all separations

Position responsible for recruiting applicants for nonexecutive openings: HR Generalist 48%, in-house recruiter 25%, Hiring Manager 16%, Third-Party recruiter/staffing agency 3%, Other 8%

Selection Techniques Used to Assess Candidates (non-exempt ( hourly) Nonmanagement), references 65%, phone screening 65%, one-on-one interview 68%, In-person screening 50%, structured interview 32%
As we look closer at these statistics it is important to note 89% of recruiting for nonexecutive openings is conducted by a Human Resources Manager, Hiring Manager or In-House Recruiter. Bigger retail stores may be able to afford a position to conduct this workload but in your case, that obligation falls to you. Now take that workload and consider that 26% of separations from your company are likely to happen within an employee's first year AND it takes 36 days on average to fill that position. Over 1/12th of your year is tied up with extra work associated with an open position for just 1 vacancy. This is not taking into account the time you will spend training the new employee when you do get them hired.  In your hiring process, you are going to contact references, phone screen with an applicant, conduct a one-on-one interview and there may well be some type of structured interview. Don't forget you will still be running the store as you go through this process. It only makes sense that an alternative resource has to be out there that can ease this burden.
      Loss Prevention Systems, Inc. offers just such a solution with the Applicant Management Center. This system allows you to post job ads and applicants can apply for them 24/7. Rather than having to comb through stacks of applications you have the ability to set up screening questions that will eliminate many unqualified applicants, saving you valuable time. Not only will unqualified candidates be weeded out of your hiring pool, you also cut down on the time you spend interviewing applicants who don't meet your minimum job requirements. It is important to recognize that if you can get the right people on your team in the first place you are unlikely to lose them within that 1-year window. That means not spending time hiring, not spending $4,425 hiring and not spending hours training a new employee. There is a myriad of benefits when managers are using the Applicant Management System.
     One final thought to share. Turnover can have a dramatic impact on a business as can drug use and prior criminal history that often lead to employee theft issues and losses leading to turnover. The Applicant Management System provides the ability to initiate drug screening and background checks which helps managers protect their stores from undesirable employees. In turn, owners improve retail shrinkage, cash losses, store safety and profits. Loss Prevention Systems, Inc. can lighten your workload and improve profits all with the help of the Applicant Management System.  Work smarter, not harder.
---