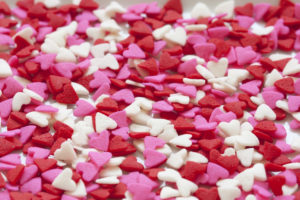 It is the time of year again when Cupid starts shooting his arrows and couples fall in love. What is more romantic than the marriage proposal in a restaurant and a ring presented in a glass of champagne? How about sweethearts strolling along the beach under a moonlit night? Is there anything more touching than the couple that has been married for a very long time and they still walk hand in hand wherever they go? Sometimes love makes us do something dumb to try to impress the apple of our eye. In one instance, a prisoner escaped from jail because he was worried how his wife might react to all the time he had been spending in jail. In another instance, a man robbed three waffle house restaurants and a 4th business in order to pay off his girlfriend's probation fees (both from mentalfloss.com, "11 Strange Things Done in the Name of Love," by Jennifer M. Wood, Feb 14, 2014). Perhaps it is the purchase of a ring we can't afford but we are determined to show our love and commitment to the person we are enamored with. Love is fine and we may even excuse behaviors we might normally consider silly when two people are in love. What is not acceptable is when love and friendship turn into "Sweethearting" deals in a retail business.
 Sweethearting is a theft or fraud activity that transpires between two or more people who know each other. At least one is an employee who provides special deals to his or her friend(s) and sometimes co-workers. The transgressions often start out small. They may involve giving a small discount on a drink or snack. Maybe it is "accidentally on purpose" overlooking an item while scanning merchandise through a register. More often than not what starts off as a little gift or friendly gesture evolves into a big problem. That boyfriend or girlfriend starts coming to the store more frequently and checking out in their friend's line. What may have started out as the occasional extra candy bar in the bag or a large drink at the snack bar for the price of a small drink quickly turns into outright passing and theft.
If the activity is going to take place at the register, the cashier may send a text message to the friend alerting them that they are on a register and will look for them to come in. There are a variety of ways the two can rip-off the store. The cashier can ring merchandise up and discount it so it appears the transaction is legitimate. The employee can fail to ring up merchandise and bag it which becomes a passing situation. There is also the tendering of money that can result in cash shortage. The friend hands over a cash payment and the cashier gives too much change to the patron. This is a difficult type of theft to see transpire because money does change hands.
Sweethearting also takes place when an employee intentionally looks the other way when her friend is in the store shoplifting.  This does not require the employee to take an active role in the crime. All that is required is for the employee to make a point of turning a blind eye to the theft as it is being perpetrated. There are times when the two parties plan out when the friend will come to the store and steal. This also means the employee is now an active participant and aiding in the commission of the crime which is much more serious on the part of the staff member.
Encourage your team to be friendly and courteous. Go above and beyond in the service you offer to customers. Love your shoppers, just make sure your employees aren't being sweethearts in the process.
---